Carolina Blanks And More LLC
Regular price
$7.00 USD
Sale price
$5.50 USD
Unit price
per
Sale
Sold out
Sublimation satin pillowcases are pillowcases made from satin fabric that can be customized using the sublimation printing technique. Sublimation printing is a method where heat and pressure are applied to transfer dyes onto a material, resulting in vibrant and durable prints.
Here is a general process for sublimating satin pillowcases:
Design creation: Start by creating or obtaining a design that you want to print on the pillowcase. This can be a custom graphic, photograph, or any other artwork.

Design preparation: Once you have the design, you'll need to prepare it for sublimation printing. This involves mirroring the image horizontally since it will be transferred in reverse during the printing process.

Printing: Using a sublimation printer, print the mirrored design onto sublimation transfer paper. It's crucial to use sublimation-specific ink and paper for optimal results.

Preparing the satin pillowcase: Ensure that the satin pillowcase is clean and free from any wrinkles. Iron it if necessary to create a smooth surface for printing.

Transfer process: Place the sublimation transfer paper with the printed design face down onto the satin pillowcase. Secure it in place using heat-resistant tape to prevent shifting during the transfer process.

Heat press setup: Set up a heat press machine according to the manufacturer's instructions. The ideal temperature and time settings may vary depending on the specific satin fabric and sublimation ink used. Typically, the heat press temperature for satin fabric ranges between 375-400°F (190-205°C).

Heat pressing: Place the satin pillowcase with the transfer paper into the heat press machine. Ensure proper alignment and make sure the pressure is evenly distributed. Close the heat press and apply the appropriate pressure and time settings.

Cooling and peeling: After the designated time has elapsed, open the heat press and carefully remove the satin pillowcase. Be cautious as the fabric and transfer paper will be hot. Allow the pillowcase to cool down completely before removing the transfer paper.

Quality check: Inspect the printed design for any flaws or imperfections. The sublimation process usually results in vibrant and durable prints, but it's always a good idea to check for any inconsistencies.

Final touches: Trim any excess transfer paper around the printed design if necessary. Your sublimation satin pillowcase is now ready to be used or packaged for sale.
Dimensions:16x16
You can also use DTF Transfers on these pillow cases 
Share
View full details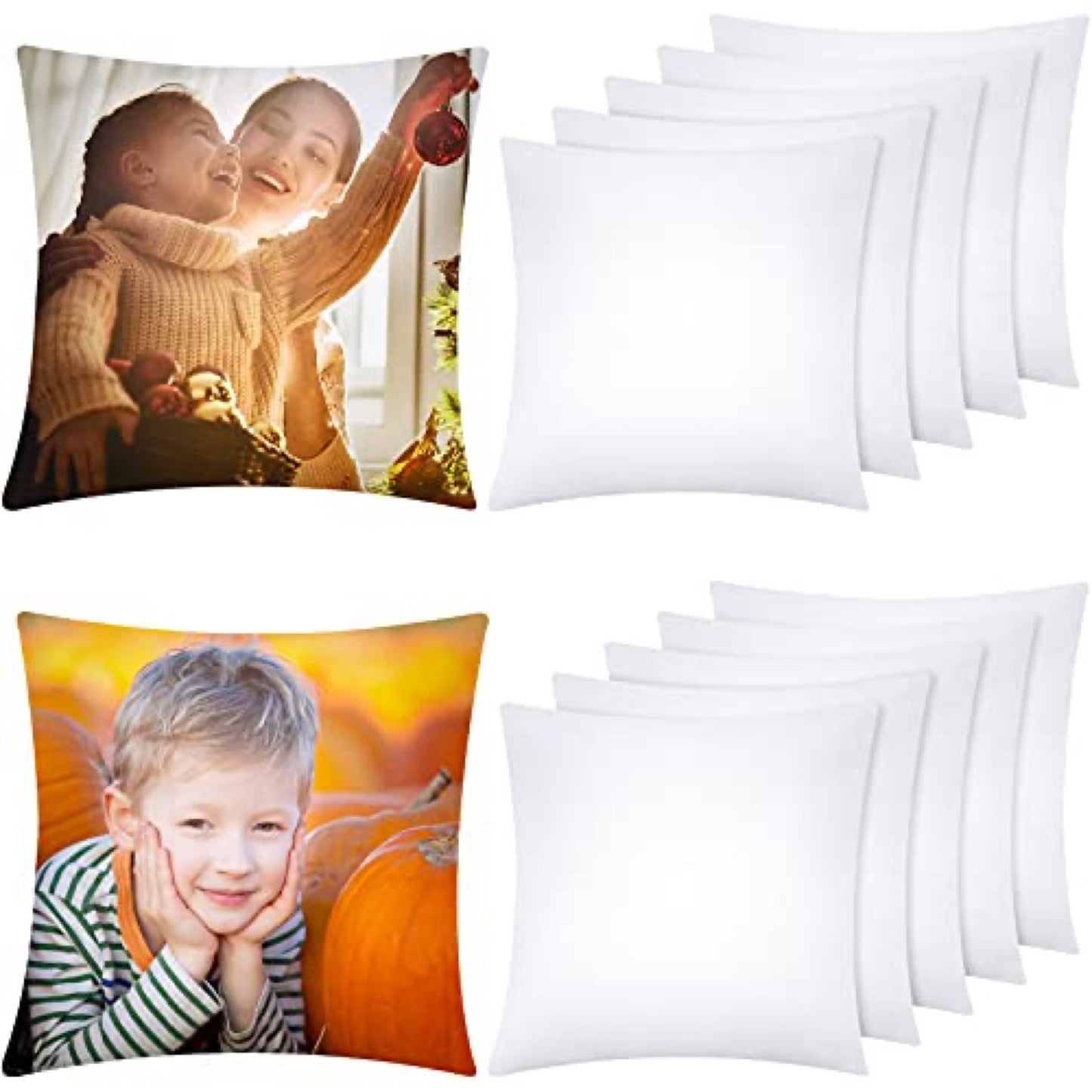 This pillows are the best!
I purchased one of these satin pillows just to try them out and I was truly happy with the final result. I made my granddaughter a learning pillow and it cam out absolutely beautiful. I jumped back on and purchased the 10 pack,
Thank you Carolina Blanks for excellent products and service!!
Satin pillow cases are great quality.
Satin pillow cases came out great. No butcher paper used inside and didn't have to lint roll. I did use a pressing pillow underneath. I love them.
The best
I love the products I received from your business and the fast response. Thank you and I will be ordering from you again.
Satin pillow cases
I received my order super fast.. and my pillows subbed beautiful ❤️ I will be ordering again.. tx a bunch..